HANKSVILLE, Utah — A state of emergency has been declared in Wayne County after heavy rains caused flash flooding Wednesday.
Officials say 10 homes were damaged in Hanksville, with water mostly accumulating in basements. Motels were also flooded, with one under eight feet of water.
Wayne County residents deal with damaging flash floods
One motel operator told FOX 13 he may not be able to reopen even after flood waters recede; a devastating blow ahead of the Labor Day weekend.
"[Saturday's] the starting of our busiest month of the year, and you can see what that's going to do," said Ed Bahr. "After the COVID-19 and everything else we've been through down here, I don't know, it's just going to be pretty tough for this town to come back. It's hard to watch the last 16 years go down the tubes likes this. Just no words."
One bit of good news is that no injuries or deaths have been reported in the area.
Residents are looking at weeks of cleanup after a rough summer for parts of central and southern Utah with seemingly non-stop flash flood events damaging homes and businesses.
"Growing up in Hanksville, it was rare that we got rain and when we did get rain we appreciated it, and this year has been super dry and so for us to get the rain, it was just a blessing but we didn't expect this," said Megan Pearson, a Hanksville resident.
People from neighboring counties turned up Thursday to help Hanksville residents and business owners dig out from the mess left behind.
"I am just at a loss for words," said Whispering Sands Motel owner Jessica Alvey through tears. "At the generosity, people are so kind. All these volunteers showed up from all over!"
Download the free FOX 13 weather app to watch the latest forecast, see live radar and get weather alerts wherever you are
Hanksville is a town dependent on tourism, so despite the flooding, businesses are asking people to still pay a visit and help them recover.
"Come down to buy some gift shop stuff and eat a hamburger. It'll help," said Alvey.
Mayor Jeffren Pei set up a fundraiser page to help residents and businesses recover.
Video shared with FOX 13 overnight showed stunning amounts of flooding. The National Weather Service said some areas showed up to six feet of water.
"It was needless to say devastating, I mean there's a lot of people out here that are experiencing a lot of loss, a lot of people with flooded basements and a lot of cleanup," said Melissa Alvey. "My husband grew up here and he says this is probably the worst he's seen it flood here."
On Thursday morning SR 24 and 95 were closed from Kanesville to Hanksville. Also areas along the Dirty Devil River were flooded with many areas impassible.
"The roads are covered there's debris everywhere, there's a lot of heavy equipment, thankfully our small town has quite a bit of heavy equipment to do the cleanup," said Alvey.
Governor Spencer Cox said that state emergency officers were assisting local officials in Hanksville and the surrounding areas.
The Wayne County Sheriff's Office reported, overflow from Bull Creek caused several homes and businesses to flood extensively. Cars and camp trailers were damaged and swept away by the water. Also, a five hundred gallon propane tank, carried away by the flood, released a cloud of propane, creating a potentially dangerous situation.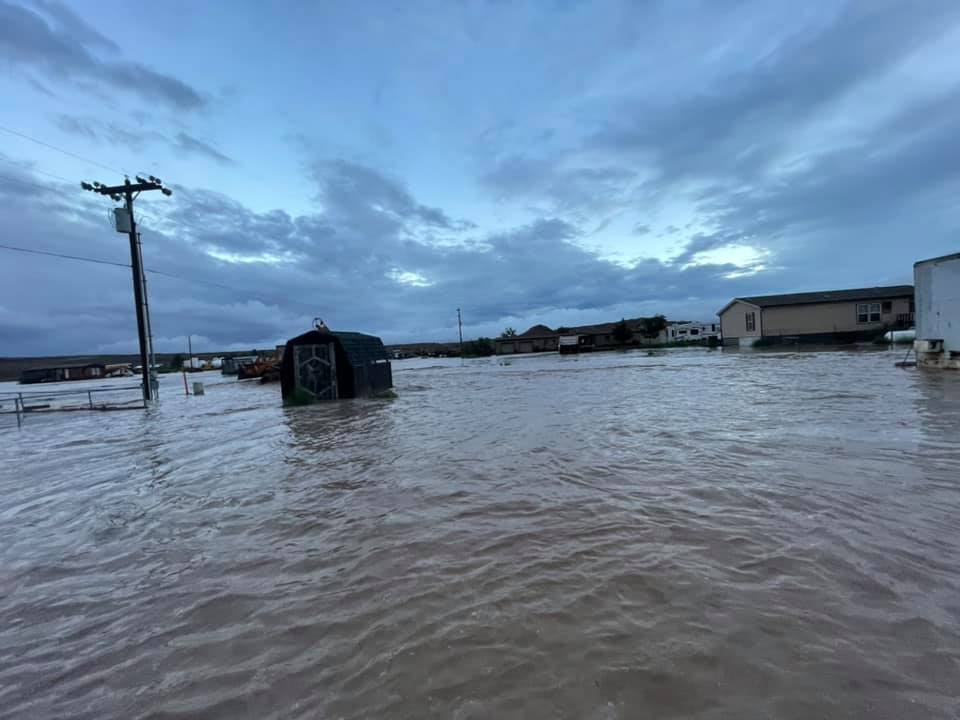 A hazmat team was able to close the valve on the tank preventing further leaks and first responders said all people had been accounted for.
Cleanup has already started on homes and businesses most affected by the flood. Resources and manpower were provided by The Church of Jesus Christ of Latter Day Saints, Wayne Stake, and Harward and Rees Construction, as well as efforts by Hanksville residents and first responders.
"It was very scary, I mean it was not even a block away from our house that the river was just overflowing and houses had already been flooded by six pm last night," said Alvey. "This town is a family so we're all coming together and doing the best that we can to get back to normal."